Nursery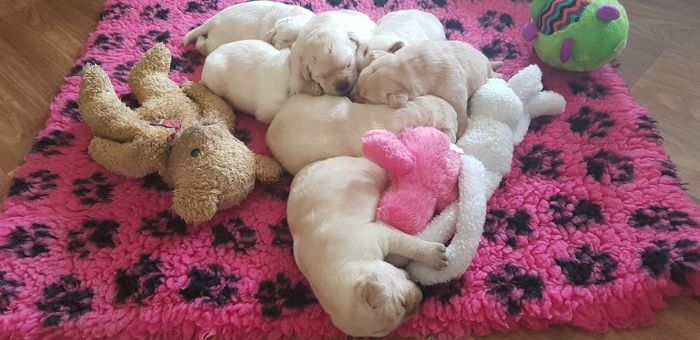 Planned litters 2024
We won't be having any puppies until mid 2024
CURRENT LITTER
PUPPIES BY OUR STUD DOGS
OUR PUPPIES
Our puppies are reared in our home and have extensive socialisation before they go to their new homes.Pictures and videos of our puppies can be seen on our FB page as they grow. Previous litters can be viewed on our YouTube channel.

*** All prospective buyers will be required to complete a questionnaire before you will be considered for one of our puppies. Our puppies only go to the best of homes!
Each Rodorbal Labrador is raised in a loving home environment and provided with lots of stimulating play and interactions to aid in their development. I am passionate, and care a lot about my dogs and offer ongoing support as required. I am also passionate about the health and well being of our dogs and do all breeding tests ie hip and elbow xrays, eye certificates, DNA tests and have commenced doing colour doppler scans for TVD (a heart disease). I go above the basic tests to ensure my breeding dogs will produce healthy puppies!
RODORBAL PUPPIES COME WITH A COMPREHENSIVE FOLDER WHICH INCLUDES, BUT NOT LIMITED TO THE FOLLOWING:
1. Certificate of Registration with Dogs Victoria and Pedigree with ANKC (you can choose your puppy's name)
2.Comprehensive Labrador Guide booklet to assist you in rearing your puppy, which includes the development of your puppy from birth to 8 weeks, which includes worming, vaccination and microchiping and a comprehensive vet health check at 6 weeks as per Dogs Victoria Code of Practice 2018
3. Copy of parents ANKC multi-generation pedigree
4. Copy of Parent's Hip/Elbow scores
5. Copy of Parent's full DNA profiles
6, Copy of Parent's current eye certificate
7. Contract of Sale and receipt
8. 8 weeks free Pet Insurance (petinsuranceaustralia.com)
9. Hypro Premium puppy pack
10. Roll of beef mince
11. A beautiful handmade slip collar and lead set made by my daughter
12. A soft toy/blanket with all the puppy smells on it
13. Access to the Rodorbal Labradors Owners Facebook group
14. Lifelong support and guidance - this includes taking your puppy/adult dog back if due to circumstances you can no longer keep your beloved pet, or help you find a suitable home for him/her


When you pick up your puppy I will:

- Talk you through my comprehensive Puppy Pack Handbook
- Discuss and sign official documents and microchip transfer
- Explain diet, nutrition, healthcare, training, exercise
- Explain obedience training and demonstrate foundation training
I always provide a thorough puppy handover so you know how to take care of and raise your puppy, Typically I like to take at least an hour for this important handover.
Dogs Victoria member: 3100045335
Please contact Dogs Victoria Vic on email: [email protected] to verify my membership
PER Source #: RB103517
Contact Details
Linda Malseed
Macarthur, VIC, Australia
Phone : 0427 836 427
Email :
[email protected]